Bismullahirahmanirahim.
Assalamualaikum.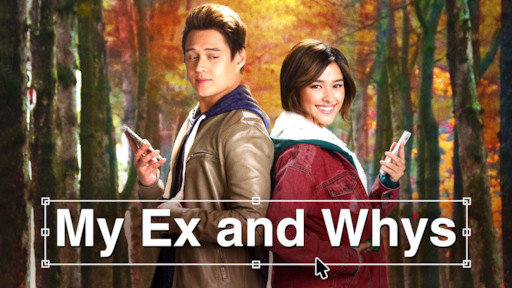 Movie : My Ex and Whys
Duration : 2 hours
Origin : Philipines
Rating : 4.5 / 5
My Ex and Whys centers around call center-slash-blogger Calixta "Cali" Ferrer (Liza Soberano) whose blog with a not-so-original-but-cute-name "The Bakit List" (The Why List) is dominated by resentment towards the opposite sex. Cali's vexation towards the male gender stems from a failed relationship with band member with a playboy image Gio Martinez (Enrique Gil with noticeably less pink lips). An out-of-town gig, unlimited supply of alcohol and females with barely-there clothes led Gio to a desirable path with undesirable result. Gio's betrayal is the straw the broke the camel's back.
Cali has had trust issues with men as her father (Emilio Garcia?) has the proclivity to treat her mother (Ara Mina) like a doormat. He ditched her for a younger and sexier woman in front of Cali and her friends, while his wife bawled out incoherent words that is synonymous to a Filipino film breakdown scene (Being a philanderer is bad enough, did he have to do it in broad daylight, too? What a bastard!).
Cali uses her unpleasant experiences with the men in her life to be the source of her unrelenting enquiries that always start with "bakit" (why). She slowly gains more followers as netizens positively respond to the contents of her blog.
After a couple of years without any communication with Cali (who changed residences), Gio fortuitously finds her. In order to get her attention, Gio sets up his own blog, "The Dahil List" (The Because List), to counter Cali's posts, to apologize to her and to show that he is a changed man who deserves another chance. Their rapid word war catches the attention of netizens and soon they are touted as the new online love team.
Fate, fame and financial opportunities throw Cali and Gio back into each other's arms. As Cali and Gio spend more time together, will Cali give Gio the opportunity to prove himself worthy of her time and trust, for the second time? Will Gio succumb to the feminine forms other than Cali's that tempt him into submission? Will "The Bakit List" find satisfactory answers to all the "bakit" in "The Dahil List"?